You may think that the garage door opener is what is supposed to open your garage door. It certainly does play a part in the process. However, the springs do a lot of the opening work. Did you know that when the springs on your garage door break that you can either get stuck in or outside the door? Let's look at what springs you may need to fix the issue.
How To Tell If Your Garage Door Springs Are Bad.
You may be wondering if your garage door springs are bad or not. This is certainly a great place to start before deciding what size you need and whether to replace them or not. Discount Garage Door, a local professional near me that does garage door spring repair in Tulsa, Oklahoma, tells us that there are a few signs you may or may not notice when the springs are going bad. Let's take a look at the possible signs below.
Signs Of Bad Garage Door Springs:
The garage door may be stopping in the middle of opening or closing. ( It may seem like the door had got caught up in something and then continued on track.)
The spring on your garage door appears to be worn out. ( It may have a stretched out appearance.)
The springs may or may not be separating. (If they are separating then you will definitely need to change the springs soon. This is a sure sign.)
Some Things To Ask Yourself Are:
Does my garage door appear to be hanging lower on one side? Is it crooked?
Has there been any damage to the door that I know of?
If there is then you may have damaged the springs in your garage door. No worries It can be fixed. Let's take a look at finding your springs for your garage door if you think they are about to give out.

How To Purchase The Right Springs.
Finding the right springs for your garage door is crucial. You do not want to go and buy the wrong springs only to find out they are the wrong kind when you are in the process of replacing them. So, follow these steps below to identify which springs you need that way you won't purchase the wrong kind.
The Color Code.
Did you know that some garage door springs actually have a color on the end coil of them? Well, they do. It may be hard to see the color due to oil build up and dirt. You can take a rag and wipe away the dirt and oil. At that point, the color should be visible.
At www.homedepot.com they have a chart that can help you identify the which springs go to which color to help with the purchase. What if your springs have no color code on them.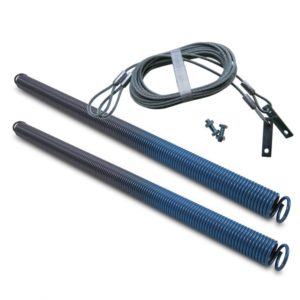 Identifying What Springs You Need Without Color.
Some garage door springs just do not have the color code on them. Do not worry though, there is still a way to figure out which springs you will need. By following these simple steps below you will be on your way to ordering the correct garage door springs.
Step One:
The first step in determining what garage door springs you need is to determine the direction in which the springs are going. What way is the spring wound up? If the spring is pointing toward the left it is a left wound, for the right a right wind. This is important to make sure that you determine this step first.
Step Two:
Count how many coils are in the spring. This will give you the right wire size. You can measure them in inches. So, see what size the coils are. Then you should measure the inside diameter of the spring. This will be done of the 1/16 of an inch.
Step Three:
Measure the length of the spring as a whole. You want a correct measurement of this. Too short of a spring can result in not being able to install. Too long of a spring and the garage door will still not open like it should. Make sure you measure correctly.
By taking these measurements you can then find the proper size springs that you will need for your garage door. You should be able to purchase the correct tension amount and all of these measurements. Now for the installing part…
Hopefully, by following these steps above you will be on the right track to purchasing the correct garage door springs. The process is not as hard as one may think and even though it may seem long it really is a quick and simple task.  You can watch this youtube video for more information if you would like.
Related Posts